You didn't come this far to stop.
We predict the future by creating it
Densitron's Robust Drop-In Replacement for Mitsubishi's TFT Modules Now Available Through DigiKey
Mitsubishi has announced the end of life for their TFT-LCD modules, but fear not – Densitron has a solution.

Densitron has a robust line of drop-in replacements, available today through DigiKey, that are fully electrically and mechanically compatible with Mitsubishi's TFT-LCD modules. These replacements promise a seamless transition, allowing the customization you need. Now with the added convenience of immediate availability through DigiKey, your projects will not only stay on schedule but will also reap the benefits of our technology advancements.
3.5'' to 15'' sizes available

Up to 1200cd/m2 brightness

>100k hours backlight lifetime

Optical bonding available

Projected Capacitive Touch (PCT) available

Ruggedized for Reliability: We have worked tirelessly to improve temperature and vibration ratings, with successful implementation in two of the largest US manufacturers. This demonstrates our unwavering commitment to quality and durability.
Unrivaled Customization: Our displays can be fully or semi-customized for viewability, brightness, temperature, cover lens, or mounting, ensuring a perfect fit for your specific needs.


Designed to Scale: Regardless of the scale of your needs – from a single display to over 20,000 pieces – we have the capacity and determination to fulfill your order.

With over 50 years of experience, Densitron has been at the forefront of Display, Touch, and Control System solutions. Our global presence, with offices across Asia, Europe, and America, ensures that we are there when and where you need us, in your time zone, in person.

Their team of experts is ready to work with you to ensure a smooth transition and continued success in your projects. We look forward to the opportunity to work with you. Partnering with DigiKey for immediate fulfillment, we are more ready than ever to help you adapt to this changing landscape. We have yet to come across a timeline we couldn't meet, or a customer who wasn't satisfied. With Densitron and DigiKey, you're in capable hands.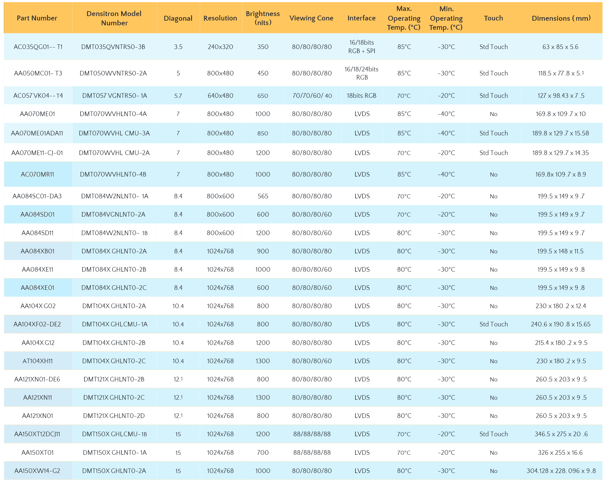 Here is the complete selection of our Densitron's drop-in replacements for Mitsubishi's TFT-LCD modules:
Unigen's Hood Boot Drive: Editor's Choice 2023
Unigen's Hood Boot Drive SSD 2242 is a testament to high-quality, reliable, and efficient storage solutions. This M.2 SATA SSD, designed for boot applications, combines compactness, performance, and durability in a way that has earned it an Editor's Choice award.
- Compact and High-Performance: Despite its small size (42 x 22 x 3.5 millimeters and 3 grams), the Hood Boot Drive SSD delivers impressive performance with sequential performance of 375 MB/s for reads and 240 MB/s for writes, and random 4K performance of 4,245 IOPS for reads and 3,170 IOPS for writes.
- High Durability and Advanced Technology: The SSD stands out for its high durability, thanks to the Hyperstone X1 controller's support for Pseudo-SLC (pSLC) technology. This technology operates MLC or TLC NAND memory in a special mode to enhance the reliability and lifetime of NAND flash memory. The device is paired with BiCS5 NAND flash memory produced by Kioxia, the rebranded company of Toshiba, the inventor of NAND Flash.
- Energy Efficient and Secure: The device's power consumption is impressively low, with less than 1.4 W during normal operation and below 0.2 W in idle mode. The controller supports AES-128 and AES-256 encryption with CBC and XTS modes (FIPS 197), a SHA-256 hashing mechanism, a random number generator, and Secure-Boot features with TCG Opal support. It also provides ECC support, up to 66 bits per 512-byte sector.
- Tested and Proven: The Hood SSD was tested on an Intel platform with a cooling system that kept the maximum temperature at 49°C after a long workload. The testing included a simulation of four workloads with the help of I/O Meter, and the SSD demonstrated consistent performance across all tests.
The Hood Boot Drive SSD has already proven its worth in a variety of applications. Its low power consumption and compact size make it an excellent choice for embedded applications where energy efficiency and space are key considerations.
Compared to other SSDs on the market, the Hood Boot Drive SSD offers a unique blend of compactness, performance, and durability. Its support for Pseudo-SLC technology sets it apart from many competitors, offering significantly higher write durability.
If you're an engineer looking for a compact, durable, and high-performing SSD for your next project, consider the Hood Boot Drive SSD 2242. For more information, feel free to contact our team at Unigen. We're here to help you make the best choice for your specific needs.
Wide Input DC/DCs pack 30W in a 1"x1" case
RECOM has released a new series of wide input DC/DCs with a 30W rating in a compact package of 25.4 x 25.4 x 10mm.
The new DC/DCs offer high power density, performance, and cost-effectiveness with a peak efficiency of over 90%. The devices are also highly reliable with a typical life of over 500khrs and safety certifications
to IEC/EN 62368-1.

The REC30E-Z series is offered in a rugged metal casing for shielding and excellent thermal performance and is suitable for use in harsh environments. The devices are suitable for industrial applications where board space is limited and high performance is required at an affordable price.
Two input ranges available (9-36V and 18-75V)

Fully regulated single and dual outputs (3.3V, 5V, 12V, 15V, 25V, +/-12V, and +/15VDC)

Advanced circuit and thermal design for high efficiency and reliable operation
"Major Evolution" of Intelligent Display Systems
The new IDS Cloud software engine allows for remote control and management of the studio environment from anywhere.
The new software offers multiple new capabilities and can be utilized in more locations, making even the smallest deployments cost effective.
Deployment for public and private clouds

Existing on-premise functionality

Build and manage workflows

Web-based management across devices

As well as meaning that any operational or system management tasks can be conducted from any location, it is also possible to achieve a hybrid operation that fuses traditional on-premise deployments with the cloud.